Parking Lot Paving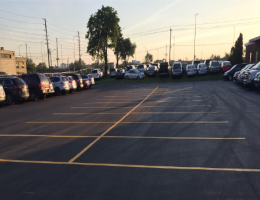 Improve the look of your commercial property with parking lot paving.
We do parking lot paving projects for all types of properties including retail parking lots, plazas, condominiums, and more. We use the highest grade of asphalt for our parking lot paving projects, to ensure excellent quality and durability.
West York understands time sensitivities when it comes to renovating commercial properties, so we'll work with you to co-ordinate a schedule to have your project done at a date you prefer.
We also offer painted line marking services, which allow your parking lot to be opened and ready to be used immediately.
See our full list of commercial paving services for all other retail and commercial paving needs.
Resources / Information: Parking Lot Paving